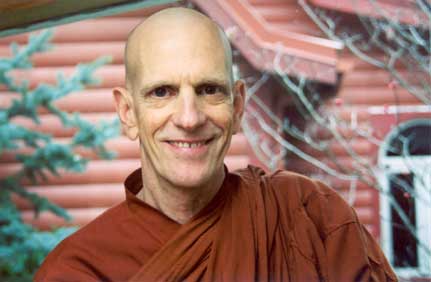 Bhante Yogavacara Rahula, former vice abbot of the Bhavana Society Buddhist Forest Monastery and retreat center in High View, has an intriguing back story, told in his book, "One Night's Shelter: Autobiography of an American Monk."
Born Joseph Scott DuPrez in California, he served in Vietnam, then took off across the hippie trail in Europe and India, was jailed for smuggling hashish in Afghanistan and then — after attending a meditation retreat in Nepal — abandoned the stoner life and became a globe-trotting monk.
Rahula, 68, will visit Charleston and Huntington Thursday through Saturday, making several public appearances. I interviewed him via email in advance of his visit
+ + +
Q: What was your early life growing up?
RAHULA: I was born and grew up in Southern California. I had a typical middle-class upbringing — went to activities with the local Methodist Church youth group, wasn't particularly religious-minded.
We lived in Riverside, about 50 miles away from the coast. My brother and I started surfing in 1962 when the Beach Boys songs were getting popular. We never did get particularly good at surfing.
+ + +
Q: How did you wind up in Vietnam?
RAHULA: I graduated from high school in 1966 and enlisted in the Army in 1967. I did not really have any pros or cons about the war, but all my friends were either getting drafted or enlisting.
I thought, what the heck. I would have eventually gotten drafted anyway.
I was initially sent to Germany as part of NATO forces. But, influenced by growing opposition to the war, a few Army buddies and I went AWOL from our barracks in Bamberg to Copenhagen, with an intention to possibly desert to Sweden.
But common sense and a lack of money changed our minds. After 28 days of freedom in Copenhagen, we turned ourselves in to the U.S. Embassy. We were court martialed and busted in rank and sentenced to three months in the brig. Six months later, I was shipped off to the Vietnam War.
Bhante Rahula's books are available through his website: bhanterahula.blogspot.com
+ + +
Q: What was your experience in Vietnam like?
RAHULA: By the luck of karma, or whatever, I escaped front line combat. I was assigned to a medical supply company in relatively safe Long Binh, where there was a large evacuation hospital, about 20 kilometers from Saigon.
I operated a glorified computerized typewriter machine that processed incoming and outgoing medical supplies. A piece of cake.
However, I did see large numbers of dead American soldiers being brought in daily from the front lines. I stayed stoned most of the time to numb myself from thinking about it, just biding my time to return home after one year and be discharged.
+ + +
Q: You later struck off across the hippie trial through India and elsewhere. What were you looking to do?
RAHULA: Upon discharge in January 1971, I took advantage of the GI Bill and enrolled at Riverside City College, intending to finish up an associate degree.
I wasted no time in trying to acquire the hippie look, with long hair and a beard, smoking pot/hashish, taking LSD, etc. In the summer of '71, I took a two-month hitchhiking trip from Amsterdam to
I heard about the free-wheeling, drug-infused hippie trail from Amsterdam to India/Nepal. It generated a burning desire to do the same. It was not coming from a conscious decision to seek religion or a guru; the drugs numbed the mind to any serious deep thinking.
Bhante Rahula often blends yoga practice into his teachings of meditation.
+ + +
Q: You were imprisoned in Afghanistan at one point. What happened?
RAHULA: I don't know what I was trying to do, just following the crowd, I guess. I started the odyssey in Stockholm and wandered south through Copenhagen, Amsterdam, Madrid and wintered over on Gomera, part of the Canary Islands.
By April '73, I had arrived in Istanbul and continued with the horde of other European and American hippie travelers by train and buses to Afghanistan, staying stoned every day on cheap hashish.
I foolishly thought I could smuggle out a kilo of hashish across the border into Pakistan, but was busted at the border crossing. I spent three weeks in the Kandahar jail and was fined $500.
Later on, when I saw the movie "Midnight Express," I realized I had gotten off pretty light. I then continued quickly through Pakistan and finally into India at last. On crossing the Wagah border, it felt like I had "returned home."
+ + +
Q: At some point, you attended a meditation retreat? What clicked for you?
RAHULA: On my way to Nepal to do some trekking, I passed through Varanasi and Sarnath, where the Buddha had preached his first sermon after his enlightenment.
It felt so peaceful there, and I reflected on what I was doing with my life. I knew I needed to clear my head from all the dope smoking, but did not know how. A few weeks later in Nepal I heard about a retreat with Tibetan lamas teaching meditation and Buddhist teachings.
Something inside me jumped at the chance. Halfway through the one-month retreat, attended by 150 other young Western travelers, I had a life-changing mental experience, a kind of spiritual realization.
I lost all desire to go back home to "live the American dream." All I wanted to do was find a suitable place to continue studying meditation and the Dhamma (the Pali pronunciation of the more familiar "Dharma" for Buddhist teachings).
I wanted to liberate my mind from the shackles of ego-centered ignorance, greed and hatred. I began entertaining the very real possibility of becoming a Buddhist monk.
Bhante Rahula has trekked widely through the Himalayan mountains.
+ + +
Q: How did you come to be ordained a monk?
RAHULA: The idea of becoming a monk led me down to South India to visit the mainly Buddhist country of Sri Lanka.
I had heard from other travelers there were meditation centers on the tropical island that allowed Westerners to stay for long periods, and it was even possible to ordain. The chief monk/teacher at the Gotama Thapovanya monastery near Colombo agreed to ordain me as a novice monk on the full moon day in May 1975.
It was three years since I had left home. I imagined myself perhaps living there, in paradise the rest of my life to attain enlightenment.
+ + +
Q: What did your family and friends think about you becoming a monk?
RAHULA: After getting out of jail in Afghanistan, I had written my mother and father and told them what had transpired. They were, of course, horrified and thought I had totally blown it on drugs and lost my mind.
When I wrote to them again six months later and told them I would become a Buddhist monk in Sri Lanka, they were totally confused. They knew little about Buddhism, and the controversy over religious cults was at full peak then. In their eyes, it seemed I was going from one extreme to another.
After a few years, they got over it and accepted the fact I was serious with the monk life, that it was not just a fad. Some of my pot-smoking friends in Riverside thought it was a hoot. They even organized a camping trip to the desert and took LSD on the night I was getting ordained (halfway around the world) to commemorate the occasion. I chuckled to myself.
+ + +
Q: You later returned to America, where you helped establish the Bhavana Society Buddhist forest monastery in rural Hampshire County West Virginia. Was there resistance locally?
RAHULA: In 1985, I read in a Buddhist magazine about a Sri Lankan monk named, Bhante Henepola Gunaratana (known as "Bhante G"), who wanted to build a forest meditation monastery in northeast West Virginia.
In 1986, I left Sri Lanka and returned home to join Bhante G in that project. When I arrived, they had already cleared some of the forest and erected a building that was still just an outer shell. No one was actually staying there on a permanent basis.
Bhante G and others would come out from [Washington], D.C., on the weekends to do some work. I was the first person to start staying there alone on a daily basis.
Bhante G had put up a makeshift sign near the driveway entrance that read, "Dhamma retreat." But some person crossed out two of the letters to read, "Damm retreat." I took that down.
I spent much of my time clearing a lot of brush and making walking paths while keeping up with my daily meditation. Bhante G had already befriended some neighbors. Mrs. Dennis would make me some food a couple days a week. Mr. Dennis took our trash to the local dump. Another man helped with tractor work like pulling out old tree stumps and grading the dirt road.
The immediate neighbor, however, was not so friendly. They were supposedly staunch Christians. One morning, I found a note outside the door that read, "You cannot hide from God."
Some unpleasant words were shouted over in our direction as well as occasional shots fired into the air. I used all of that to develop patience and loving-kindness towards them. After some years, they mellowed out a bit. All in all, living there in the woods of West Virginia was not bad, and I enjoyed it.
+ + +
Q: What is it like living the life of a traditional Buddhist monk, relying entirely on donations of meals and basic supplies to survive?
RAHULA: I lived at the Bhavana Forest Monastery from 1987 until 2010. Then, I decided to adopt a peripatetic lifestyle the Buddha had recommended for his bhikkhu (monk) disciples.
I had invitations from numerous Buddhist groups and other monasteries to teach or stay for private retreat to keep nearly perpetually busy. The monastic discipline of a monk defines a life of simplicity and dependence on the lay community.
We do not directly handle money or engage in shopping or do paid work. We do not charge for or get paid for teaching; it is a life of individual spiritual practice and being of service to the spreading of the Dhamma in the greater society.
We usually just go places on invitation where our transportation, meals, lodgings and other requisites are cared for.
+ + +
Q: What is an average year for you like now?
RAHULA: When I have down time, I try to visit my aging mother for a month or two once a year. I try to fit in a three-week trek in the Nepal Himalayan mountains when I am on the Indian subcontinent.
Some years I may stay longer, visiting centers here in the states and Canada, other years, I may stay longer in Europe, Brazil India, Sri Lanka, Thailand, etc.
Last year, I stayed in a forest monastery for three months, doing a completely secluded individual meditation retreat with little contact. That was a much enjoyed R&R.
+ + +
Q: What does the future hold for you?
RAHULA: Even though I may have a schedule lined up a year in advance, I try to live more or less in the present moment. Different centers have invited me to stay with them on a long-term basis, but I try not to commit myself to any one place for more than a few months at a time.
I do not want to get too tied down and caught up with the governing or politics that can occur even in Dhamma centers.
As I get older and traveling gets more tiring, I may eventually stay longer in one or two places. People often ask me where I am living nowadays. I usually point to my heart: "Wherever I am, it is here and now."
▪ ▪ ▪
Below, is the schedule for Bhante Rahula's visit to the area, sponsored by The Meditation Circle of Charleston (themeditationcircle.com). All events are free, but people are encouraged to show up before the starting time. For more on Bhante Rahula, visit his blog: bhanterahula.blogspot.com.
Here is a link to his Youtube channel.
+ + +
'An Introduction to Meditation'
WHEN: 6 to 8 p.m. Thursday,  Oct. 13
WHERE: PeaceTree Center, 5930 Mahood Drive, Barboursville, (about 10 minutes from the Huntington Mall).
WHAT: Bhante Rahula will offer some basic yoga instruction and speak on "An Introduction to Meditation," followed by meditation and Q&A.
+ + +
Meditation, talk and Q&A
WHEN: 7 to 8 p.m. Friday, Oct. 14
WHERE: Unitarian Universalist Congregation, 520 Kanawha Blvd. West, Charleston, W.Va.
WHAT: Meditation, talk and Q&A.
+ + +
Yoga and meditation
WHEN: 11:30 a.m. to 2 p.m. Saturday, Oct. 15
WHERE: PeaceTree Center, 5930 Mahood Drive, Barboursville.
WHAT: Yoga session followed by meditation and then Q&A.
+ + +
'Mindfulness in Daily Life'
WHEN: 5 to 7 p.m. Saturday, Oct. 15

WHERE: Unity of Kanawha Valley, 804 Myrtle Road, Charleston
WHAT: Yoga session followed by talk on "Mindfulness in Daily Life," short meditation and Q&A.
+ + +
This story originally appeared in the Oct. 9, 2016 Charleston Gazette-Mail