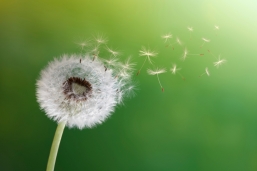 Ancient Pali texts liken meditation to the process of taming a wild elephant. The procedure in those days was to tie a newly captured animal to a post with a good strong rope. When you do this the elephant is not happy. He screams and tramples, and pulls against the rope for days. Finally it sinks through his skull that he can't get away, and he settles down. At this point you can begin to feed him and to handle him with some measure of safety. Eventually you can dispense with the rope and post altogether, and train your elephant for various tasks. Now you've got a tamed elephant that can be put to useful work. In this analogy the wild elephant is your wildly active mind, the rope is mindfulness, and the post is our object of meditation– breathing. The tamed elephant who emerges from this process is a well trained, concentrated mind that can then be used for the exceedingly tough job of piercing the layers of illusion that obscure reality. Meditation tames the mind.
Bhante Gunaratana
"Mindfulness in Plain English"
HOW TO DO IT
The most basic way to do mindful breathing is simply to focus your attention on your breath, the inhale and exhale.
Find a relaxed, comfortable position. You could be seated on a chair or on the floor on a cushion. Keep your back upright, but not too tight. Hands resting wherever they're comfortable. Tongue on the roof of your mouth or wherever it's comfortable.
Notice and relax your body. Try to notice the shape of your body, its weight. Let yourself relax and become curious about your body seated here—the sensations it experiences, the touch, the connection with the floor or the chair. Relax any areas of tightness or tension. Just breathe.
Tune into your breath. Feel the natural flow of breath—in, out. You don't need to do anything to your breath. Not long, not short, just natural. Notice where you feel your breath in your body. It might be in your abdomen. It may be in your chest or throat or in your nostrils. See if you can feel the sensations of breath, one breath at a time. When one breath ends, the next breath begins.
Now as you do this, you might notice that your mind may start to wander. You may start thinking about other things. If this happens, it is not a problem. It's very natural. Just notice that your mind has wandered. You can say "thinking" or "wandering" in your head softly. And then gently redirect your attention right back to the breathing.
Stay here for five to seven minutes. Notice your breath, in silence. From time to time, you'll get lost in thought, then return to your breath.
After a few minutes, once again notice your body, your whole body, seated here. Let yourself relax even more deeply and then offer yourself some appreciation for doing this practice today.
http://ggia.berkeley.edu/practice/mindful_breathing