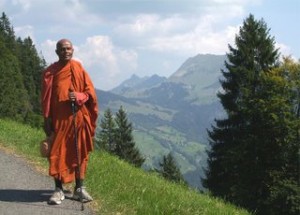 The following is from an interview with Bhante Henepola Gunaratana, abbot and co-founder of the Bhavana Society Monastery and Retreat Center in Hampshire County, W.Va., near Wardensville. "Bhante G," as he is known worldwide, is one of the leading Therevadan Buddhist monks teachers in the Western world and author of several books, including the best-selling "Mindfulness in Plain English" (Wisdom Books), which can also be read in its entirety online. 'Right Effort' is the discussion theme for February for the Meditation Circle. In a related vein, how much effort should we bring to our meditation practices?
QUESTION: How much effort should be bring to our meditation practice? Zen teachers sometimes speak of 'effortless effort' and to 'just sit' when meditating. How hard should we be trying when meditating?
BHANTE G: When it comes to meditation, your effort should not be haphazard or blind. It's a committed effort. Before you even start, you should consider: "Is this the right moment for me to practice?" Suppose it's a busy time, the TV is blaring somewhere, people are running around. No matter how hard you try, you can't seem to do the practice. So you have to understand the situation, you have to be mindful of when to sit.
But once you've chosen the place and time to practice, by all means, apply every ounce of effort to overcome laziness, drowsiness, restlessness, worry and so on. These are very common, ordinary obstacles. In Buddhism, we call them 'hindrances' since they hinder our progress. When hindrances arise, we shouldn't be lazy. We shouldn't think: "Well, this is just way too hard. I'm wasting my time. This stuff always comes up and blocks me when I try to meditate. I give up." You must encourage yourself and always renew your effort at sitting. You might tell yourself: "I can do this. This is possible. I can overcome my sleepiness, I can work with this restless mind. I see other people who have learned how to do this. I can do this myself." So you must exert yourself, you must try to shake yourself awake and tell yourself: "Hey, you! Don't chicken out of this!" Continue reading Bhante Gunaratana on effort and meditation →