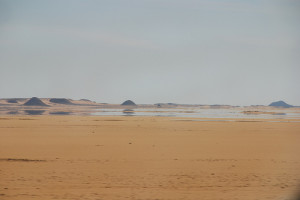 Distorted perceptions are like a mirage. Deceived by a mirage, a deer runs quickly toward what it perceives as water. As he runs, he sees that the water-like mirage is still far ahead of him. So he keeps running toward it to drink. When he is even more tired and thirsty, he stops and looks back. Then he sees that he has gone past the water. When he runs back, he perceives that the water is ahead of him. So he runs back and forth until he is exhausted and falls to the ground.
Distorted perception is like that for us. Pulled by our own attachments, we are always chasing phantoms. Terrified, we run away from monsters created from our own aversions. So long as perception is distorted, we are unable to see the true nature of what is in front of us—nothing but an ever-changing collection of sights, sounds, smells, tastes, touches, and thoughts or concepts. Moreover, nothing that we perceive has a self or soul; and nothing can bring us permanent happiness or unhappiness.
In essence, when perception is distorted, we perceive impermanence as permanence, suffering as happiness, something neither beautiful nor ugly as beautiful or ugly, or something not self as self.
From Meditation on Perception: Ten Healing Practices to Cultivate, by Bhante Gunaratana © 2014 Wisdom Publications. Reprinted with permission of the publisher.