Tag Archives: mindfulness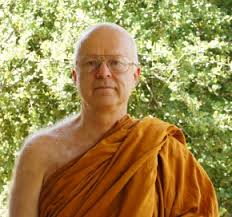 Here's a wonderful interview from Mask Magazine with the Buddhist scholar monk, Thanissaro Bhikku. The whole thing is worth a read, but these paragraphs really stuck out:
"Try to have a part of your mind that doesn't buy into everything around here. You can create that. The Internet has the advantage that now you can listen to dharma talks at any time. You can read dharma passages for some of these alternate ideas.
"Hold to your precepts. Try to develop a state of mind, where you're in touch with that part of the mind that's not affected by anything. So that whatever comes in, you don't feel overwhelmed. That sense of being overwhelmed is what makes people desperate. Develop that part of the mind that can tell itself: okay, no matter what comes, I can handle it.
"That requires some meditation. And having the precepts as the basis for your self-esteem. Basically, that there are certain things that nobody can ever pay me to do. If you've got a precept and someone offers you a million dollars to lie, you say "nope" – and suddenly, you've got a precept worth more than a million dollars."
"Traditionally, Buddhists are reluctant to talk about the ultimate nature of human beings. But those who are willing to make descriptive statements at all usually say that our ultimate essence or Buddha nature is pure, holy and inherently good. The only reason that human beings appear otherwise is that their experience of that ultimate essence has been hindered; it has been blocked like water behind a dam.
The hindrances are the bricks of which the dam is built. As mindfulness dissolves the bricks, holes are punched in the dam and compassion and sympathetic joy come flooding forward. As meditative mindfulness develops, your whole experience of life changes. Your experience of being alive, the very sensation of being conscious, becomes lucid and precise, no longer just an unnoticed background for your preoccupations. It becomes a thing consistently perceived."
~ Bhante Gunaratana
from "Mindfulness in Plain English"