A friend and I who attended Miami University together in the late '70s had hoped to see H.H. the Dalai Lama upon his visit to our alma mater later this month in Oxford, Ohio. Alas, tickets went fast and furiously and mostly to Miami students. I consoled myself with having had the blessing of seeing the Dalai Lama speak on two prior occasions, once in a dialogue in Belfast with a Christian monk and once in 1998. From the archives, I offer this depiction of a day-long Lojong training and talk given by His Holiness at American University in D.C., in November 1998. The article was originally written for Hundred Mountain, a Buddhist online journal I used to publish on the Web.

WASHINGTON, D.C. | November, 1998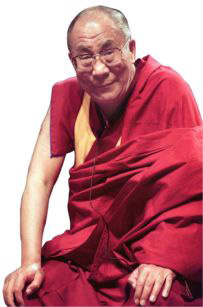 by douglas imbrogno
DOWN ON THE CORNER OF 12th AND K STREETS, it sounds like a riot. I push open the rubbery Days Inn curtains and look down six floors to the corner of 12th and K streets. It is 3 a.m. The nation's capital–or at least this neck of the woods–has not gone gently into the night. Honking cars cram the intersection on this cool November Friday night. A knot of young black guys laughs, shouting at the top of their lungs and then one starts swinging. He is tackled to the ground, scrambles up and flees into the darkness. Women in short skirts sidle up to car windows, lean in.
Can't hotel staff put the kabosh on this after hours street theater? Don't people know His Holiness the Dalai Lama is in town? Where are the cops? Those of us who drove hundreds of miles to drink up the fellow who has become a sort of alternative pope for some Westerners need our rest. We have a full day ahead. Six hours of instruction in Lojong mind training. Shut up, world! (Is that an un-Buddhist sentiment?) The revelry continues past 4 a.m., when it finally dries up and blows out. The streets empty. Tendrils of a rosy dawn soon creep into the capital sky.
H.H. the Dalai Lama was the hot ticket in town, and in fact, all along the Eastern Seaboard. It was an odd thing. The Dalai Lama had for years barnstormed across America. Yet this past fall, his appearances in Washington, in Pittsburgh and elsewhere merited widespread mention and coverage in the popular media. Slow news week? Or was the Tibetan spiritual leader still just way cool?

It was no small potatoes to be in the same room with him. Just to sit in the bleachers in the cheapest seats in the gym at American University—the site of the Lojong training—cost $35. For $85, you got a fold-down seat. And $115 got you down on the gym floor within eye-ball-to-eyeball distance of him. That would be an auspicious thing, I was told. Just to hear him, just to be in the same room with such a highly realized teacher, earned merit for you in the karmic sense of things, said the contractor who had invited me to come with him for the event. A gymnasium, would count, too.
I'd never seen His Holiness in person. My contractor friend, Ken Lewis, had seen him numerous times. He never missed the chance for a Dalai Lama road trip when His Holiness was anywhere within striking distance of Ken's home in Spencer, West Virginia. This time, he'd lined up his wife and son, as well as a Spencer schoolteacher friend, plus myself, a longtime student of Therevadan Buddhism.
We popped for the $85 fold-downs. The schoolteacher took it to the bank so he could sit down on the gym floor. Income from the talk was to be used to support a multi-year project including an event the summer of the year 2,000 on the National Mall in the capital, something called "Tibetan Culture Beyond the Land of Snows." Ken won over an niggling doubts about the propriety of spending so much money for what amounted to a five-hour lecture: "If I trust anyone with how my money would be spent, it'd be the Dalai Lama." Continue reading ARCHIVES: The Dalai Lama from the bleachers →